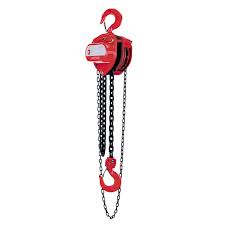 Our certified technicians repair and certify most major brands of manual chain and lever hoists, including:
CM
Coffing
Yale
Harrington
Jet
Magna, and more
Hoist Safety Certification Program
The Occupational Safety & Health Administration (OSHA) requires all businesses that use hoists to be safety certified on an annual basis. We offer annual certification programs to suit your company's needs. We stock most parts including hooks, latches, friction disks, chain, etc. We are also a warranty repair center for Jet & Magna and are CM certified.
NW Industrial Tool, Inc. provides customers with periodic inspections, ranging from three months to an annual basis. With that comes full paperwork for your records and a tag on the hoist corresponding with the paperwork provided, letting those who are working with the hoist know that they are in compliance with regulations.
All our preventive maintenance programs are based on the hoist manufacturer's recommended service checklist, including any deteriorated components or unsafe conditions. If issues with your hoist are detected during the maintenance inspection, we will provide an estimate of parts and repair cost before any services are executed. All of required parts replacement or service must be completed before a hoist is allowed to be recertified.
Inspection Classifications
Periodic Inspections – Visual inspections that are performed between a quarterly and annual basis by someone designated to record conditions and provide a basis for continuing hoist evaluation.
Normal service: annually
Heavy service: semi-annually
Severe service: quarterly
Records will need to be kept.
Frequent Inspection – A visual inspection performed by the operator or designated personnel. A frequent inspection should be performed from daily to monthly and before each use.
Normal service: monthly
Heavy service: weekly to monthly
Severe service: daily to weekly
No records are required for frequent inspections.